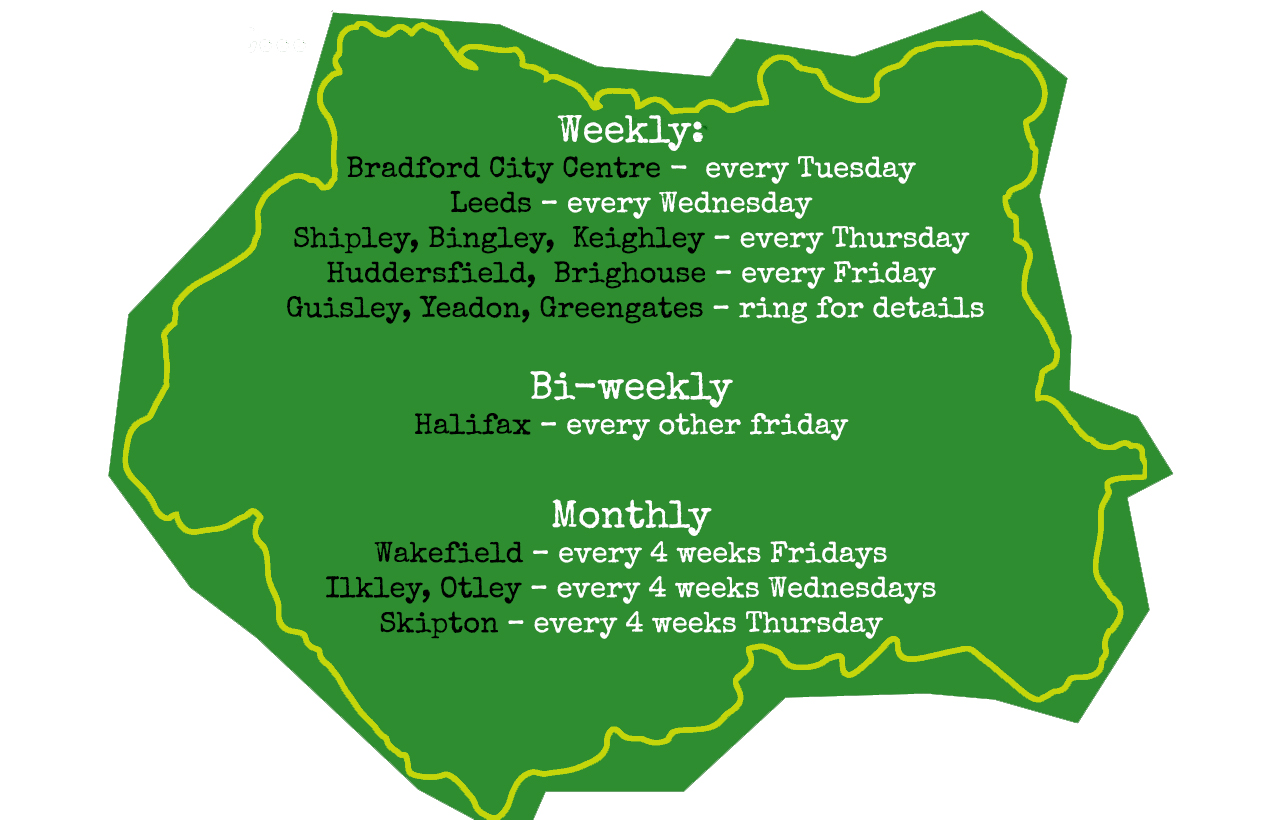 Please Note:
We will travel beyond this area for large jobs, particularly large clear outs of confidential waste.
We can give approx times slots for pick-ups.
These are our typical collection days, but please call to discuss your requirements. 
If you are planning to deliver to us, please ring to let us know in advance.
Accessibility:
On your collection day, your paper needs to be stored on the ground floor and be easily accessible to our driver. We are able to make collections from less accessible storage places (ie upper floors with no lift access or from cellars), but we may make an additional charge to cover the time taken. If your paper is in a cellar please make sure it is dry. Wet & mouldy paper is a health & safety problem. 
Becoming a Customer…
This section will guide you through the steps to becoming a customer:
1) Decide which services you need by looking over our Services page
2) Download and fill in first page of our service agreement (see downloads), then email or fax it to our address. Then you will be set up as one of our customers. 
3) You can just call us whenever you need to arrange a collection, if you want to drop your waste directly to us, or if you want to be put you on a regular pick up list.
4) We will then deliver you sacks or bins if you require them.  
5) We will also bring a duty of care waste transfer note for you to sign on our first visit.  From then on we will only send you Waste Transfer Notes at the end of each year. Please notify us of any changes to your email address.   
6) We are a registered Waste Carrier with the Environment Agency. If required you can download our waste carriers license (see downloads).
Please return completed Service Agreements to: enquiries@wastechasers.co.uk
Once you have been setup as a customer by returning the service agreement to us, we will send you an invoice at the end of the month.
If we collect from you we can accept payment by BACS.
Please note if you deliver to us, we only accept payment by cash or cheque.
Frequently asked questions…
What kind of paper can you recycle?
You can give us a mixed bag of paper which we will sort for you at our premises. This can include: Office paper, letter paper, photocopier paper, computer print-outs, brightly coloured paper, envelopes, glossy paper, glued paper, card, books, newspapers and magazines, pamphlets, flyers etc.
Can I give you the plastic dividers in my folders?
No plastic thanks! Due to stricter criteria at the paper mills we cannot accept plastic of any kind, in even the smallest quantities. This includes items such as plastic laminated brochures, junk mail with plastic wrapper still on, clear plastic dividers or folders all such items may be notified and returned to your company.We reserve the right to charge for returned items. But dont worry about removing the staples. 
What happens if other office items end up in the waste sack too? 
Waste Chasers reserves the right to charge for any items included with the paper which is not specified on the transfer note. 
What the strangest thing you've found in a sack?
Over the years we've found some strange things in the bags of paper customers have given us. The strangest: a hibernating hedgehog – don't worry it carried on hibernating at the local RSPCA!